Top Ten Tuesday is a weekly meme created by The Broke and The Bookish! 
When I was younger and oblivious to the wider book community, my reading habits comprised solely of going to the library/ bookstore and picking out books based on their blurbs & covers. Now my book selecting process has become a lot more refined and involves scrolling through multiple reviews, checking out the overall Goodreads rating (I am such a rating snob) and choosing the prettiest cover. Because of this, most of the books that I read are because I found them on the interwebs and could all be technically classified as "recommendations". But today, I'll try to pick some (not 10 because it was hard guys!) that were actually recommended to me and my thoughts on them! Off we go…
---
T H E   M O R T A L   I N S T R U M E N T S
Cassandra Clare
---
I was recommended this book many (many, many) moons ago when I was sitting in my high school roll call class one morning and I saw a girl reading City of Glass. When she saw me looking at the cover, she proceeded to rave on about how great the series was and exactly what I was missing from my life. Although I agree that The Mortal Instruments does not have the best writing or the best plot, it played a large part in introducing me fully to the YA genre and MORE IMPORTANTLY also brought Alexander and Magnus to my life so for that, I am grateful.
---
S I X  O F  C R O W S
Leigh Bardugo
---
The surprising thing is that when Six of Crows first came out, it was so massively hyped in the US but none of the bookstores around me carried it. I put it off for so long and eventually kind of forgot about it's existence until it was recommended to me over and over again for it's diversity and it's general amazingness. When I finally picked it up, it went on to become one of my favourite books ever and the sequel, Crooked Kingdom, followed suit. If you haven't read this duology, WHAT ARE YOU DOING? The characters, the world, the EVERYTHING are so fascinating and beautiful and you MUST GET ON IT NOW.
---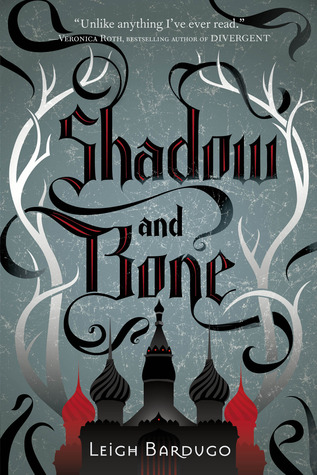 S H A D O W  A N D   B O N E
Leigh Bardugo
---
This actually continues on from the last one because once I started talking about how much I loved Six of Crows, a lot of people recommended that I pick up The Grisha Trilogy. I know, I know. You're meant to read this before SoC but you know me, living on the edge as per usual. Anyway, although I did highly enjoy these books, it did not reach anywhere near my infatuation with the SoC trilogy (actually nothing can reach my levels of infatuation with that duology so I guess there is that).  But I still highly recommend you read these, especially before Crooked Kingdom because there are heaps of references to the trilogy.
---
T O  A L L  T H E  B O Y S   I ' V E   L O V E D  B E F O R E
Jenny Han
---
This book was the single most talked about contemporary on BookTube for a while and as a result, I picked it up. It may be because of my general dislike of contemporaries or just because of the book itself but I didn't like it at all. I do recognise that I am part of the teeny tiny minority because everyone and their mother seems to love this book but it was a miss for me unfortunately. However, it is one of the few YA contemporaries with a PoC as the main protagonist so for that, it wins brownie points in my eyes.
---
T H E   N A T U R A L S
Jennifer Lynn Barnes
---
I decided to pick this book up a few days ago when it was introduced to me in the "recommendations" section of Goodreads. I am so glad because it was a really interesting read! It basically revolves this group of slightly-damaged teens (ANTI-HEROES ARE MY THING) who work as part of a task force for the FBI because of their special talents. The cases/profiling/FBI work was super interesting to read about (total Quantico/ CSI vibes) and is a totally unique concept to combine with YA. I'm excited to move onto the rest of the series which are supposed to be even better than this one!
---
 T H E   F I N A L   E M P I R E 
Brandon Sanderson 
---
I am a massive fantasy fan and it's basically all that I read, especially when it comes to YA. However, I really wanted to branch out into Adult Fantasy because they have some of the best books in the genre and I was recommended Brandon Sanderson as a good "gateway drug" of sorts. ANYWAY three books later and the Mistborn trilogy is one of my absolute favourites. It actually blows my mind how brilliant Brandon Sanderson is as a story teller and world builder! I have since gone on to read Warbreaker (which was as also amazing) and have A Way of Kings on the way – definitely pick up his books if you can!.
---
T H E   S O N G   O F   A C H I L L E S
Madeline Miller
---
After I binged read the entire Captive Prince trilogy (by C.S.Pacat) over a weeked, I was in a SERIOUS hangover. All I wanted to do was reread the books over and over again and I was basically lost on how to return to normal existence. Cue asking assistance from my lovely Bookstagram friends and I was recommended The Song of Achilles as the perfect remedy. I already had this book sitting on my shelf so I decided to give it a shot and it worked! But also destroyed my feeble emotions because tHIS BOOK.  Achilles and Patroclus' story is one of the epics and Miller wrote out this narrative is such a beautiful, emotional way that is still painful to think about months later.
---
That's all for today – let me know what books you read because of recommendations!
Until next time,